Bluewater Central Yachts for Sale
February 2018
International direct contact

Mobile phone :

06-32-17-36-33

internetcouncil@internetcouncil.us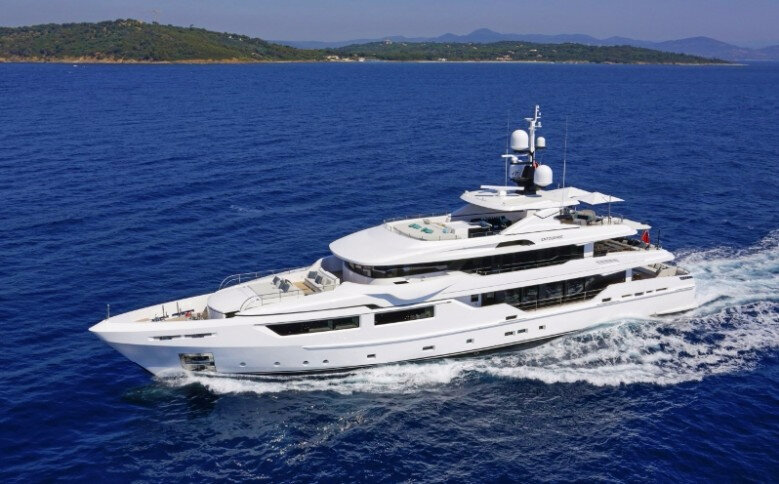 ENTOURAGE

46.55m / Admiral Yachts / 2014

Available for viewings in Dubrovnik

Bluewater is delighted to announce that the Admiral Maxima 47 M/Y ENTOURAGE will be available for viewings in Dubrovnik, Croatia, from 8th June 2018.

Delivered in 2014, this superb tri-deck yacht is the epitome of luxury and has a striking design that features a modern, contemporary, minimalist interior. ENTOURAGE benefits from an abundance of natural light and a spacious interior, including a large Master Suite with a full beam bathroom.

With an exterior design by Luca Dini and an interior design by Admiral Centro Stile & Dragana Maznic, ENTOURAGE boasts a 134m² sundeck, a beach club, an impressive gym, a state-of-the-art AV system and a Turkish steam room.



Yacht Features

Naiad 621 zero speed stabilisers

Fully ECDIS compliant and paperless Bridge

Spacious sundeck with spa Jacuzzi, TV wet bar, and huge selection of sunbathing pads and beds

Sky lounge can also be used as a cinema room with a 64" TV hidden in the ceiling

Miele galley and laundry equipment

Full specifications

www.bluewateryachting.com/yacht-for-sale/entourage-15708

Asking price

Yacht specifications

| | |
| --- | --- |
| Builder | Admiral Yachts |
| Year | 2014 |
| LOA | 46.55m |
| Beam | 8.9m |
| Draft | 2.9m |
| Accom. | 12 guests in 5 cabins |
| Speed | 12 - 16 knots |
| Hull | Steel |
| Engines | 2 x CAT C 32 ACERT Commercial |
| Location | Dubrovnik, Croatia |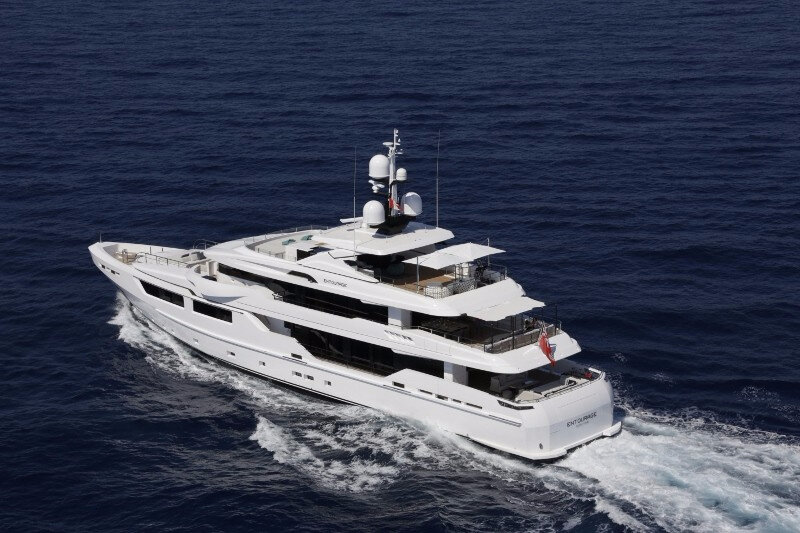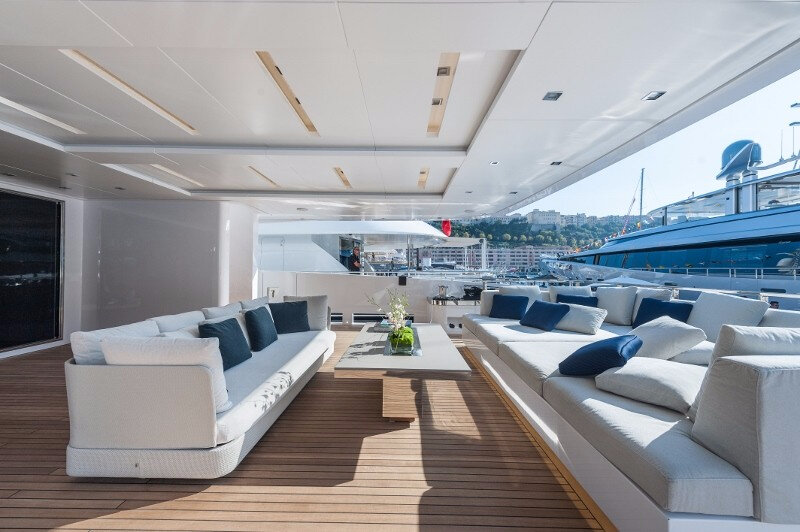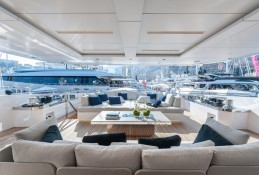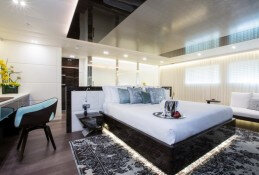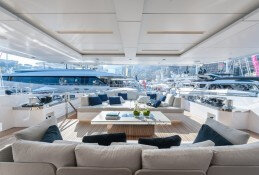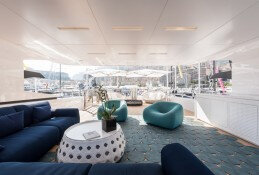 Central Agency Yachts for Sale - February 2018
MOSAIQUE

Significant price reduction

Builder

Proteksan

Year

2002

LOA

49.9m

Hull

Steel

Location

Imperia, Italy

Asking price

€9,950,000

Email

peter@bluewateryachting.com

ASTERIA

Motivated seller

Builder

Anastassiades Shipyard

Year

1970

LOA

49m

Hull

Steel

Location

Brisbane, Australia

Asking price

$8,750,000

Email

jim@bluewateryachting.com

ENTOURAGE

Admiral Maxima 47

Builder

Admiral Yachts

Year

2014

LOA

46.55m

Hull

Steel

Location

Bahamas

Asking price

€19,950,000

now

17,950,000




Email

peter@bluewateryachting.com

VK_1

Superstructure 75% complete

Builder

Vulkan Shipyard

Year

2019

LOA

42.1m

Hull

Aluminium

Location

Valencia, Spain

Asking price

€2,990,000

Email

jim@bluewateryachting.com

TANIA T

Recent price reduction

Builder

Mondo Marine

Year

2003

LOA

41.5m

Hull

GRP

Location

Antibes, France

Asking price

€4,490,000 (VAT Paid)

Email

tom@bluewateryachting.com

DORIANA

Classic sailing yacht

Builder

Frederikssund Shipyard

Year

1930

LOA

38m

Hull

Teak

Location

Loano, Italy

Asking price

€2,950,000 (VAT Paid)

Email

jim@bluewateryachting.com

MIDNIGHT SUN

SOLD

Builder

International Shipyard Ancona (ISA Yachts)

Year

2006

LOA

37m

Hull

GRP

Location

Cannes, France

Email

tom@bluewateryachting.com

GIORGIA

True elegance and luxury

Builder

Benetti

Year

2009

LOA

36.6m

Hull

GRP

Location

Antibes, France

Asking price

€6,950,000

Email

peter@bluewateryachting.com

CUSTOM LINE

112 NEXT

Only CL112 NEXT currently on the market

Builder

Ferretti

Year

2010

LOA

34.16m

Hull

GRP

Location

Croatia

Asking price

€7,400,000

Email

irina@bluewateryachting.com

XNOI

Fantastic 360 degree views

Builder

Picchiotti

Year

2012

LOA

30.65m

Hull

Carbon Fibre

Location

Genoa, Italy

Asking price

€8,850,000

now 7,150,000

Email

jim@bluewateryachting.com

KALLIENTE

Seriously for sale

Builder

Dominator Yachts

Year

2017/2018

LOA

27.5m

Hull

Carbon Fibre - GRP

Location

Fano, Italy

Asking price

€6,445,000

Email

jim@bluewateryachting.com

ACE SIX

Great volume opportunity

Builder

Canados

Year

1987

LOA

27m

Hull

Wood

Location

Alicante, Spain

Asking price

€295,000

Email

jim@bluewateryachting.com

SERALIN

Sporty Leopard 26

Builder

Leopard (Arno)

Year

2004

LOA

26.1m

Hull

GRP

Location

Turkey

Asking price

€1,100,000

Email

tom@bluewateryachting.com

ASTARTE

Ferretti 830 HT

Builder

Ferretti

Year

2007

LOA

25.3m

Hull

Fiberglass

Location

Croatia

Asking price

€2,100,000

Email

irina@bluewateryachting.com

CARBON OCEAN YACHTS 82

Ground breaking cruiser-racer

Builder

Carbon Ocean Yachts

Year

2018

LOA

25.1m

Hull

Carbon Fibre

Location

Maine, USA

Asking price

US$10,000,000

Email

jim@bluewateryachting.com

AEGIR

Needs to be sold now!

Builder

Carbon Ocean Yachts

Year

2010

LOA

25.1m

Hull

Carbon Fibre

Location

Palma de Mallorca, Spain

Asking price

€3,599,000 (VAT Paid)

Email

jim@bluewateryachting.com

EIGHTEEN TWO

Excellent range and very low consumption

Builder

Van der Heijden

Year

2016

LOA

24m

Hull

Steel

Location

Mallorca, Spain

Asking price

€3,500,000 (VAT Paid)

Email

jim@bluewateryachting.com

STALCA

Major 2016/2017 refit

Builder

Visch Holland Shipyard

Year

1971

LOA

24m

Hull

Steel

Location

Palma de Mallorca, Spain

Asking price

€1,500,000 (VAT Paid)

Email

jim@bluewateryachting.com

DESTINY

Custom-built explorer yacht

Builder

Fifth Ocean Yachts

Year

2014

LOA

23.9m

Hull

Steel

Location

Imperia, Italy

Asking price

€2,650,000

Email

irina@bluewateryachting.com

CARAMEL

Bring offers

Builder

Ferretti

Year

2009

LOA

21.03m

Hull

GRP

Location

Marmaris, Turkey

Asking price

€720,000

Email

irina@bluewateryachting.com

MIROMUTU

Iconic 68 Ego Super

Builder

Riva

Year

2008

LOA

20.82m

Hull

GRP

Location

Antibes, France

Asking price

€1,150,000 (VAT Paid)

Email

tom@bluewateryachting.com

AMMOS

Princess 56 Flybridge

Builder

Princess

Year

2001

LOA

18.11m

Hull

GRP

Location

Athens, Greece

Asking price

€255,000 (VAT Paid)

Email

richard@bluewateryachting.com

ARC

Fountain 42

Builder

Fountain

Year

2004

LOA

12.8m

Hull

GRP

Location

Athens, Greece

Asking price

€175,000 (VAT Paid)

Email

richard@bluewateryachting.com

FAST WIND

Fjord 40 Millenium

Builder

Fjord

Year

2015

LOA

11.99m

Hull

Fiberglass

Location

Monaco

Asking price

€499,000 (VAT Paid)

Email

tom@bluewateryachting.com

COCKWELLS TENDER

State of the art tender

Builder

Cockwells

Year

2013

LOA

9.5m

Hull

Composite

Location

Cornwall, UK

Asking price

£550,000

Email

richard@bluewateryachting.com

30M/35M BERTH

Price reduction

Size

30m/35m x 9m

Lease until

2024

Port

Port Camille Rayon, Golfe Juan

Asking price

€595,000

Email

tom@bluewateryachting.com

28M BERTH

Located on the outside wall of this stunning SOF port

Size

28m x 7.5m

Lease until

2020

Port

Marina Baie Des Anges, Villeneuve Loubet

Asking price

€250,000

Email

tom@bluewateryachting.com

23M BERTH

Ready to be sold

Size

23m x 6m

Lease until

2021

Port

Port Vauban, Antibes

Asking price

€99,000

Email

tom@bluewateryachting.com
MIROMUTU

Viewings recommended

The owner of this beautiful Riva 68 Ego Super wants her sold; she is seriously for sale at the price of €1,150,000 (VAT Paid) and available for viewings in Antibes.

Her 3 cabin layout comprises an aft full beam master cabin with large hull glazing, allowing for plenty of natural light and magnificent views whilst cruising; in addition to this, you have a VIP double cabin and a guest twin cabin.

To arrange a viewing onboard M/Y MIROMUTU or to request further details, please contact Tom Barnes on +33 6 20 18 17 34.

We also have her 23 x 6m berth in Antibes available for sale separately; please contact Tom Barnes for further information.

Full specifications

www.bluewateryachting.com/yacht-for-sale/miromutu-16120

Asking price

€1,150,000 (VAT Paid)

Yacht specifications

| | |
| --- | --- |
| Builder | Riva |
| Year | 2008 |
| LOA | 20.82m |
| Beam | 5.45m |
| Draft | 1.85m |
| Accom. | 6 guests in 3 cabins |
| Speed | 35 - 39 knots |
| Hull | GRP |
| Engines | 2 x MAN 1,550hp diesel CR |
| Location | Antibes, France |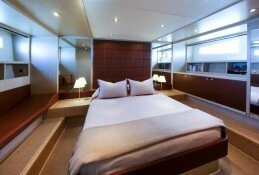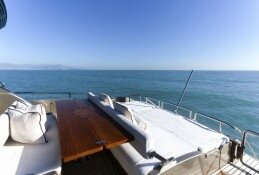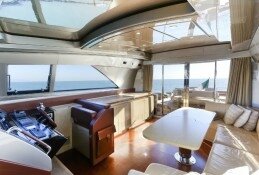 *******************************************
30m Picchiotti Sailing Yacht - XNOI - For Sale
Bluewater is delighted to announce that the performance cruiser XNOI is now for sale.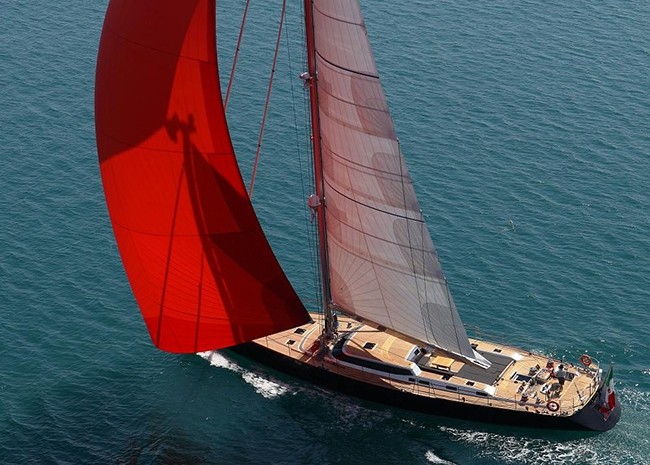 XNOI was designed by the renowned Nauta Studio and built in 2012 at the Perini Navi facility in La Spezia, Italy. Built in carbon fibre for a passionate and highly knowledgeable owner, whose experience and fine eye for detail has added to her overall quality, she has been superbly maintained and shows immaculately.
XNOI offers a fantastic 360-degree view of the sea from inside the deck house, as well as two separate salons. The interior has great volume and has been designed in a minimalist style, with light oak wook used throughout, complemented by the light oatmeal upholstered sofas. This blue water cruiser comfortably accommodates 10 guests in 4 cabins comprising of a Master suite and 3 twin guest cabins, all equipped with ensuite bathrooms.
This 30m features a 305hp Cummins engine and selection of water toys including a 40hp Yamaha tender, water skis, a wakeboard, a Seabob F5S and a stand-up paddle board.
This high-performance sloop is asking after

C

8,850,000 to day now
€7,150,000. Please contact for further information or to arrange a viewing in Genoa, Italy.
S/Y XNOI